Soulsister Tickets
Chemie, magie: Jan Leyers en Paul Michiels hebben het samen altijd gehad.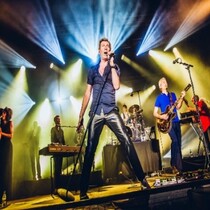 Tickets boeken voor Soulsister? Wij hebben altijd de beste tickets voor u beschikbaar. Samen met uw vrienden of familie een fantastische show beleven? Dat kan bij ons. Aarzel niet en bestel nu uw tickets!
Lees meer
Beschikbaar

Bekijk tickets
Chemie, magie: Jan Leyers en Paul Michiels hebben het samen altijd gehad. Muziekbroeders van toen ze in 1985 nog half voor de grap The Soul Sisters heten, leveranciers van magische songs, van het debuut "You get to me" via mijlpalen als "Like a mountain" en de wereldhit "The way to your heart" naar het rijpere werk: de inmiddels klassieke albums "Heat","Broken" en "Swinging like big dogs" met de hits "Through before we started", "Facing love", "Changes", "Locks and keys" en zovele andere. Live bleef al die jaren de chemie intact, met Jan als hart en brein van de groep en Paul als lichaam en ziel. Soul, pop, slimme rock: het duo kon het allemaal aan en deed het op op talloze binnen- en buitenlandse podia vonken en vlammen. Na de "definitieve" split in 1995, waren er in latere jaren eerst voorzichtige en daarna meer voldragen tijdelijke reünies, uiteindelijk vanaf 2017 bekroond met een wegens groot succes altijd maar uitwaaierende 30 jaar Soulsister-tournee. In 2020 staan de heren er weer, met volle overtuiging, trots op wat ze samen hadden, hebben en zullen hebben, èn met nieuw werk dat naast de hits — die ze zeker allemaal zullen spelen — zal staan. Het jaar wordt op 12 maart 2020 in stijl ingezet met een Rewind-concert in de Ancienne Belgique, waarbij Soulsister hommage brengt aan het album "Heat", dat zijn 30-jarig jubileum viert.
Daarna komt de hitmachine pas goed op gang … mét op 15 mei 2020 een uniek concert in het Concertgebouw van Brugge in een uitgebreide bezetting, compleet met blazers, percussionist en algehele feest- en speelvreugde. Genoeg om heel hard naar uit te kijken, dus. Soulsister is terug, en hoe.