The Johnny Cash Roadshow Tickets
Johnny Cash wordt aanzien als één van de belangrijkste Amerikaanse singer-songwriters van de 20e eeuw.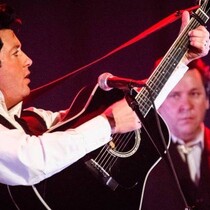 Tickets boeken voor The Johnny Cash Roadshow? Wij hebben altijd de beste tickets voor u beschikbaar. Samen met uw vrienden of familie een fantastische show beleven? Dat kan bij ons. Aarzel niet en bestel nu uw tickets!
Lees meer
Beschikbaar

Bekijk tickets
Johnny Cash wordt aanzien als één van de belangrijkste Amerikaanse singer-songwriters van de 20e eeuw. Vaak geassocieerd met country-muziek, was het repertoire van Cash veel gevarieerder met invloeden uit de rock-'n-roll, rockabilly, blues, folk en gospel. "The man in black" met zijn typische bas-bariton stem bracht opmerkelijke concerten (o.a. in gevangenissen) met een sobere begeleidingsband. De live albums "Johnny Cash at Folsom Prison" en "Johnny Cash at San Quentin" werden wereldwijd enorme successen. Zanger Clive John kruipt in de huid van Johnny Cash en zorgt voor een kippenvel-reïncarnatie. Het publiek wordt meegevoerd doorheen het rijke repertoire van Johnny Cash en songs zoals 'I Walk the Line', 'Folsom Prison Blues', 'Ring of Fire', 'A Boy Named Sue', 'Jackson', … ontbreken niet op de setlist. Deze tribute is niet zomaar een tribute, het is een belevenis zoals hoe de echte shows van Johnny Cash dat ook waren. Geen wonder dat de familie Cash de "The Johnny Cash Roadshow" als enige tribute erkent ! Rosanne Cash zegt hierover "Clive's gelijkenis met mijn vader is akelig echt !"